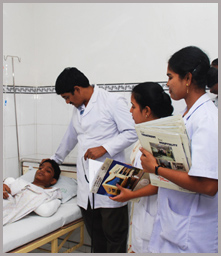 Welcome to Kala Hospitals
Kala Hospital is 110 bedded Multi-Speciality Hospital and is one of the most equipped and premium Hospital. Our Physicians Service is your indispensable guide to the finest doctors and dentists in vizag.We are fortunate to have on staff some of the most experienced and highly respected doctors in the region from New born and Child Care,Maternal Health Care and Cardiology, to Gastroenterology, Internal Medicine,Stereotactic Radiosurgery,oncology,Geriatric Care and many other areas of specialization ,you'll find the doctor you need and want at Kala Hospitals.

Kala Hospital is engaged in providing the latest internationally recognised medical care to patients with a variety of ailments and medical conditions. This Hospital concentrates on all major specialities.Headed by Dr.Ramana Murthy, the leader with unstinted commitment, the expert team of doctors and support staff ensure the best care is delivered at all time with utmost dedication.It is their sacrament to enrich and preserve valuable human lives.We understand you and your needs.
A Trusted Corporate Hospital